Yellowfin Tuna
Tuna fishing is a big business. These valuable fish are something we take pride in producing. Super Strike Charters is one of the most productive tuna fishing charters in the Gulf.
Yellowfin Tuna (Ahi) Fishing Charter
Yellowfin Tuna, also known as Ahi in Hawaiian, are a beautiful and tasty fish found in warm waters. Yellowfin Tuna are abundant in the spring and found year-round. These Yellowfin Tuna travel in large schools, making it possible to catch numerous fish on one trip. At Super Strike Charters, our captains know techniques for locating and catching Yellowfin Tuna from years of captaining fishing charters in Venice, Louisiana.
When you reel in a fish on your deep sea fishing charter, there are a few things you can look for to identify if it is a Yellowfin Tuna. A fish that is most widely known for its physical beauty with a streamlined football-shaped body. Yellowfin Tuna coloring has speckles of silver on their sides with darker colors near the dorsal fins with a streak of yellow along their sides and, true to their name, yellowfins.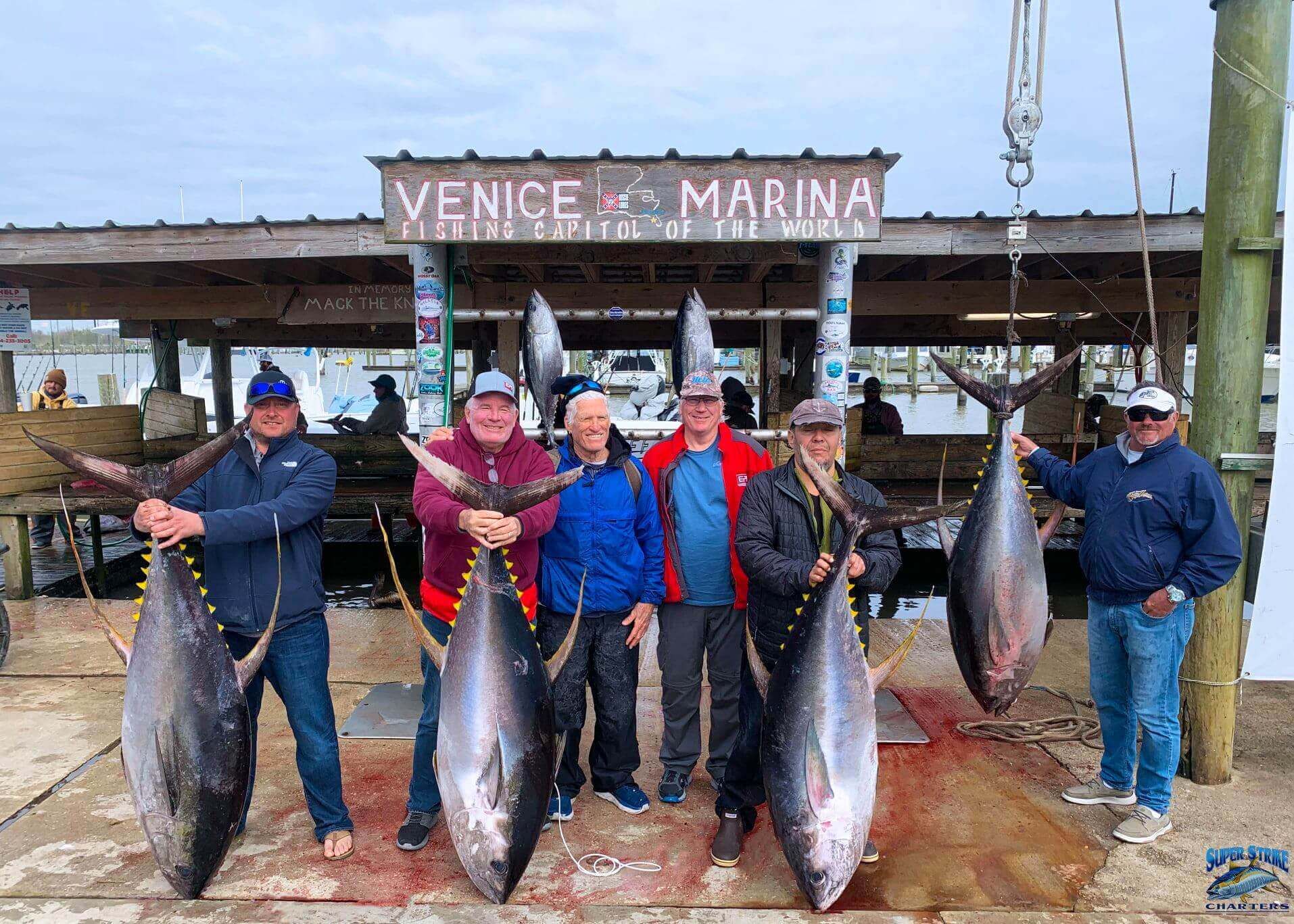 Book your fishing charter with Super Strike Charters
Yellowfin Tuna are one of the most sought-after fish while deep-sea fishing. There is nothing more exciting than seeing schools of Yellowfin Tuna break the surface as they chase bait while you try to chase them down. If you are looking for a day at sea trying to nab one of these beautiful and tasty fish, book your deep sea fishing charter with us!
Book Your Yellowfin Tuna Charter Trip Below!
About Yellowfin Tuna
If you want to make a catch worth showing off, these torpedo-shaped fish with unreal coloring are perfect. The largest Yellowfin Tuna on record was 388 pounds. Yellowfin Tuna are known to travel in school along with other fish species.
Ahi Tuna is moist, supple, and best served lightly seared on the outside with the inside raw. As beautiful as they are tasty, this fish has a name that means "fire" from the smoke that comes off fishing lines when the Tuna takes off. On deep-sea fishing charters with Super Strike Charters in Venice, Louisiana, you will have the opportunity to hook this colorful fighter.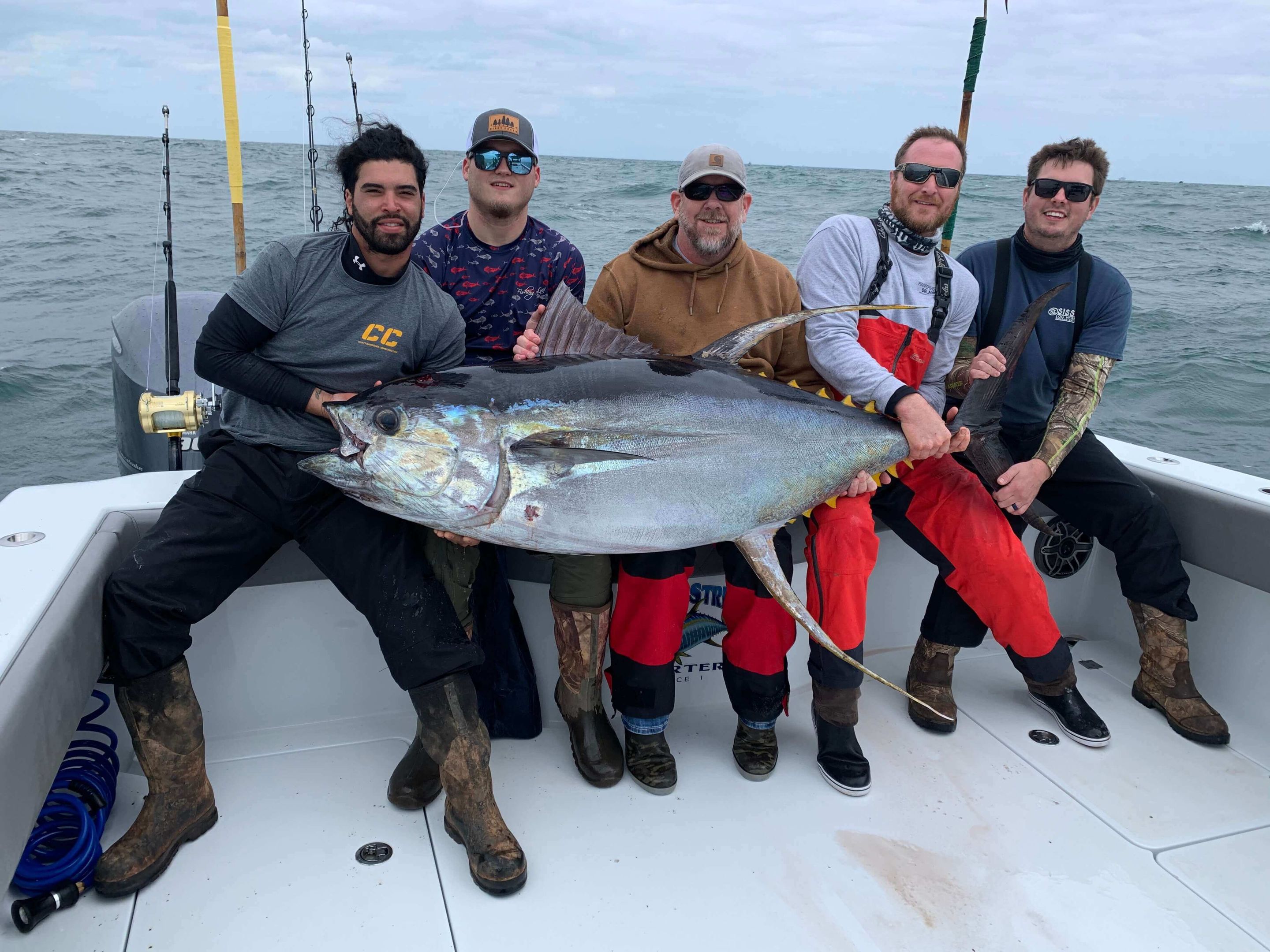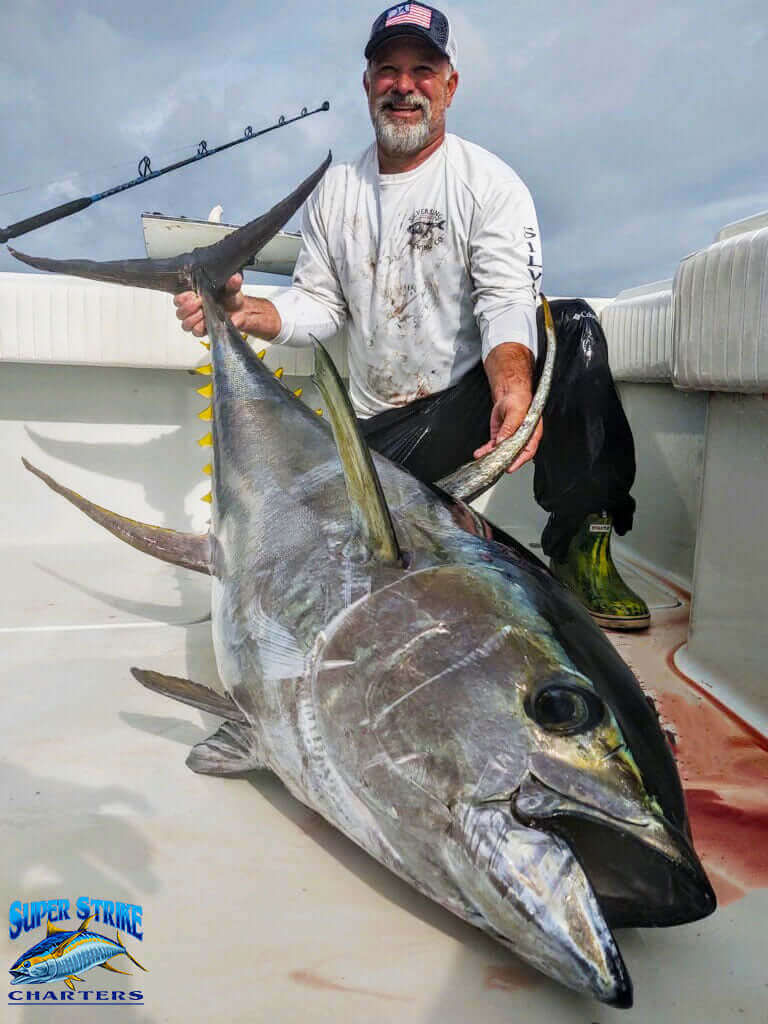 Strategies for catching Yellowfin Tuna
Like many popular deep-sea fish, Yellowfin Tuna also stick around structures. Yellowfin Tuna only feed on certain fish depending on the time of year. Make sure you are armed with the correct bait that the fish are feeding on, or you won't have much luck when trying to hook one.
Bait and lures recommended for best chances at catching Yellowfin Tuna include:
Threadfin herring
Menhaden / pogies
Blue runners / hardtails
Mullet
Tuna feathers
Cedar plugs
Plastic skirted trolling lures